Expanded the functions of the AI review tool "KIBIT Automator" which is a key to FRONTEO's portfolio transformation, enabling one-stop handling of eDiscovery process from pre-processing to document review.
New York, April 30, 2021 – FRONTEO (TSE: 2158), a leading eDiscovery services provider, announced today that it has expanded the functions of the AI review tool "KIBIT Automator" (Note 1) provided by FRONTEO Inc. We will start offering it as a next-generation eDiscovery platform that can handle everything from pre-processing to document review.
The amount of data managed by companies is increasing year by year. During the process of eDiscovery, collected data can reach several TB per evidence holder (custodian), it is necessary to find documents that could be used as evidence from a huge number of documents within a limited period of time. Time, quality of investigation, and cost are major issues for legal departments and lawyers involved in litigation. Among them, the process called "document review" is said to occupy 70% to 80% of the time and cost of the eDiscovery process, and the need for Technology Assisted Review (using computers or AI for the review process) is increasing.
To meet this need, FRONTEO released the AI review tool "KIBIT Automator" (add-on tool for Lit i View and Relativity) in 2019, improving the quality and productivity of reviews of numerous complex international litigation and administrative investigations. KIBIT Automator achieves the review speed of 650 doc/h (around 6,500 pages), reducing document review time and costs by more than 90%. (Note: This is made possible by the cutting-edge technology that allows human reviewers to focus on high priority documents while AI reviews the rest.)
In addition, FRONTEO has developed the eDiscovery support system "Lit i View E-DISCOVERY", based on the knowledge and know-how acquired through abundant international litigation support and fraud investigations totaling more than 10,000 cases. We have continued to provide it for more than 10 years. Lit i View (Note 2) is a one-stop solution for supporting international litigation and has a Processing function for preprocessing a wide variety of business documents and a Review function for viewing documents.
By renewing these functions as KIBIT Automator Review (Review function) and KIBIT Automator Processing (Processing function) and linking them to KIBIT Automator, a series of fraud investigation and evidence disclosure operations can now be processed as a consistent workflow. In addition, we also have enhanced the functions that make it easier to conduct reviews using AI, and which have already been widely used in the U.S. litigation scene.
【New function】
・ KIBIT Automator Review
It inherits the Lit i View functionality that allows you to view a wide variety of documents and perform reviews with flexible coding panel settings. In addition to the "And / Or" search operators for words, the search function supports advanced searches such as proximity search and regular expressions, which are indispensable for Japanese language searching in eDiscovery.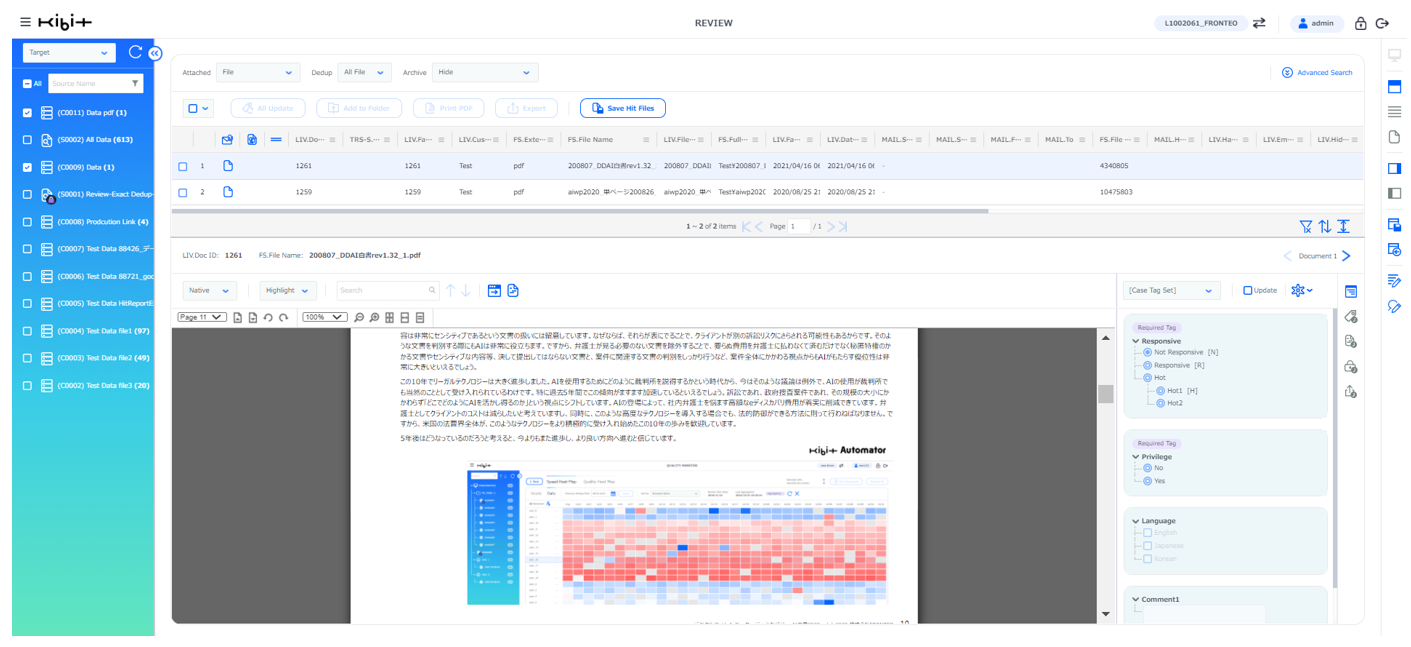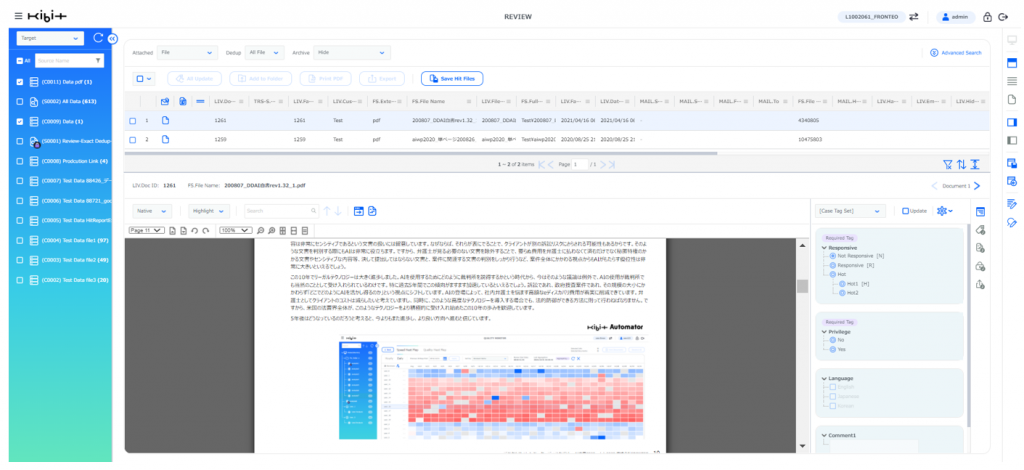 ・ KIBIT Automator Processing
It allows you to narrow down the data by preprocessing a wide variety of business documents. By inheriting the feature of Lit i View that accurately processes Asian languages without encountering garbled characters, and by changing the architecture to parallel processing, the processing speed is about 3 times faster than Lit i View in preprocessing, and deduplication processing has improved about 10 times or more.
By utilizing proprietary developed AI technology and by applying various know-hows acquired through over 15 years of international litigation support and product development, FRONTEO aims to contribute in making eDiscovery and fraud investigation "AI-ready".
(Note 1) KIBIT Automator https://legal.fronteo.com/products/kibit-automator/
"KIBIT Automator" is an AI tool developed for the purposes of enhancing the efficiency of document review (particularly in eDiscovery), reducing reviewers' workload, and cutting costs. Released in March 2019, it is applied in the investigation techniques used in discovery to examine and analyze huge volumes of evidence materials such as emails and electronic files using AI. It is also expected to be used to handle information disclosure within a short timeframe, which companies have been requiring in recent years.
(Note 2) Lit i View https://legal.fronteo.com/products/e-discovery/
Lit i View is a solution that covers the eDiscovery process flow (from data processing to document review), offering flexible workflows, powerful search capabilities, and text analysis capabilities. An eDiscovery software that can accurately identify and process Asian character sets and various file applications.
---
About FRONTEO, Inc.
FRONTEO, Inc. is a data analysis company that supports information analysis with its proprietary natural language processing AI (artificial intelligence) engines "KIBIT®" and "conceptencoder®." Established in August 2003 as a company to support e-discovery (electronic evidence discovery), which supports evidence preservation, investigation, and analysis of electronic data necessary for legal matters such as international lawsuits, as well as digital forensic investigations, FRONTEO has applied its proprietary technologies such as its data analysis platforms to assist in roughly 10,000 international litigation measures to date. The AI-related technologies cultivated in the legal business have also been expanded to areas such as life sciences and business intelligence, and have achieved results in drug discovery research support, diagnostic support, and work style reforms. Listed on TSE Mothers on June 26, 2007. Obtained a first-class medical device manufacturing and sales license (permit number: 13B1X10350) on January 13, 2021. The capital is 2,568,651 thousand yen (as of March 31, 2020).
For more information about FRONTEO, contact pr_contact@fronteo.com or visit http://www.fronteo.com/ .
CONTACT: FRONTEO Global PR
pr_contact@fronteo.com